An oil change is one of the most basic and most important parts of your vehicle's maintenance. So, what kind of oil should your vehicle take and how often does it need to be changed? To help drivers in Ithaca, Elmira, and Corning answer all of that, Maguire Honda of Ithaca examines the different types of oil changes.
Types of Motor Oil
Since there are all sorts of vehicles on the road, there's more than one kind of motor oil, too. To get the best performance out of your car, you should use the oil and oil grade that's listed in your recommended maintenance schedule or suggested by a service technician. Some of the most common types of oil are:
Conventional Oil - Derived from crude oil, it's the most common type and works well in most vehicles
Synthetic Oil - Filters out most of the natural impurities found in conventional oil, designed to last longer and stand up to more extreme temperatures
Synthetic Oil Blend - A mix of conventional and synthetic oil, often lasts longer but still has some natural impurities that can benefit an engine
High Mileage Oil - Primarily used in vehicles with over 75,000 miles
What Does Motor Oil Do?
Oil keeps the parts of your engine in good condition by lubricating and cooling them. Whether you're idling or speeding down the highway, there's a lot of machinery under the hood that's constantly hard at work. Those parts can build up a lot of heat.
When there are parts in motion and lots of heat, it can create friction between the parts. If friction were to build up inside your engine, it would be at risk of having problems or breakdowns. Oil prevents all of that. It allows all the parts to run smoothly and stops them from overheating.
After a few thousand miles, or enough time, all forms of oil start to lose their ability to effectively cool and lubricate. When oil starts breaking down, you'll need an oil change. That's what makes this form of routine maintenance so important.
When to Get an Oil Change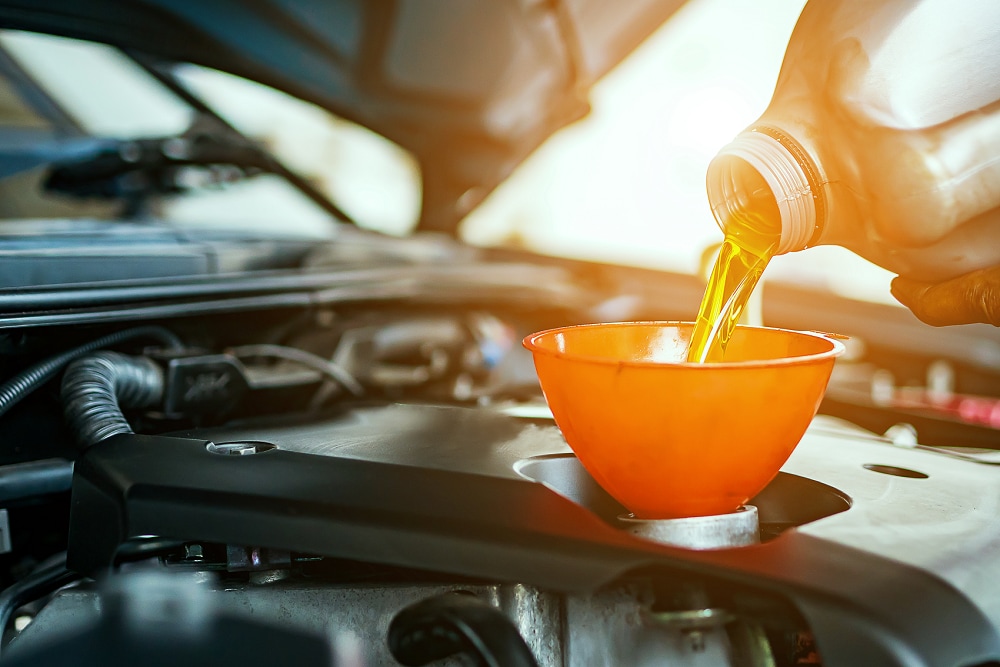 How often your vehicle needs an oil change will depend on what type of oil it takes. Every vehicle is different. You can check your owner's manual to find both the type of oil that's recommended and the maintenance schedule for how often you should get an oil change.
There are some general guidelines you can go by though. If you drive an older vehicle, you'll likely be running on conventional oil. In that case, it's a good idea to have an oil change every 3,000 miles or every six months.
Most cars, trucks, and SUVs made in the last ten years take some form of synthetic oil. It lives up to its design by helping you drive more miles in between oil changes. Usually your vehicle will need an oil change once a year or every 7,500 miles.
If you're not sure how long it's been since your last oil change, that's ok too. Your vehicle's dashboard can help. Almost all vehicles have a dashboard warning light that will turn on when you're low on oil. It usually looks like an old-fashioned oil can.
Schedule an Oil Change
To learn more about the types of oil changes, and which oil your vehicle should take, visit Maguire Honda of Ithaca. Our service center helps drivers in Ithaca, Elmira, and Corning with a team highly trained technicians. Schedule service online if you're due for an oil change or visit our service center.