Like most parts in your car, brakes need routine maintenance and occasional service to keep functioning properly. That includes bleeding them to get air bubbles out of your brake lines. To help drivers in Ithaca, Elmira, and Corning take better care of your brake system, Maguire Honda of Ithaca put this step-by-step guide together on how to bleed brakes.
Why Do You Need to Bleed Brakes?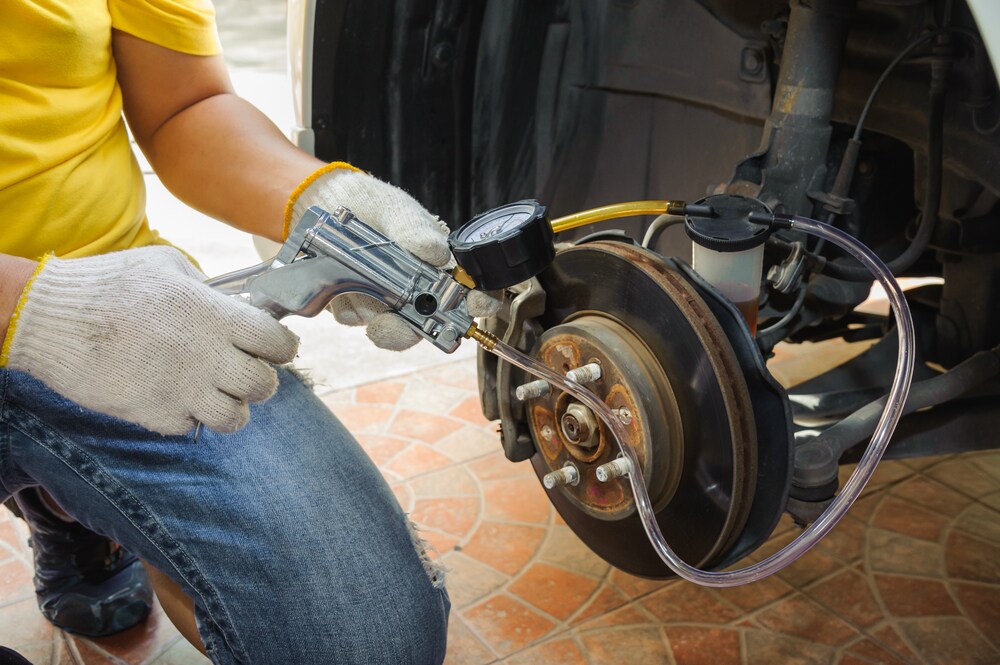 Your vehicle's brakes are basically one big hydraulic system. When you step on the brake pedal, the master cylinder registers the pressure you applied, then pushes brake fluid out to your wheels through the brake lines. If there are any air bubbles in your brake fluid though, it can cause problems like drifting to one side when you brake or your brake pedal to feel like it's stuck or slowly sinking.
How to Bleed Your Brakes
Bleeding your brakes requires some equipment and a partner. You'll need a wrench to open and close the brake bleeder valve, safety glasses, gloves, and a bleeder bottle. This could be a plastic bottle with a clear tube attached to it or a loose piece of tubing that you connect to a mason jar, whatever is most convenient for you. Once you've got everything you need, follow these 10 simple steps to get the air out of your brake lines:

First, find the master cylinder under the hood. You're going to have to bleed each one of your brake lines individually, but it's smart to start with the brake that's furthest away from the master cylinder.
Next, find the brake bleeder valve on the side of your brake caliper
Attach one end of your tubing to the brake bleeder valve, then attach the other to the jar or bottle that you're using to collect the brake fluid.
Using a wrench, open the bleeder valve. Tell your partner when it's open so he or she can press the brake pedal all the way to the floor. This will push out any air or fluid that has air bubbles in it.
Make sure your partner holds the brake pedal down as long as the valve is open. Releasing the pedal will draw air in again.
Close the valve and have your partner take their foot off the brake pedal.
Check your brake fluid levels inside the master cylinder. You'll need to add brake fluid until it's full every time you bleed a brake.
Repeat steps 4 through 7 a few times until you only see clear brake fluid with no air bubbles.
To make sure you get all the air out of your brake lines, you'll have to repeat this process for the rest of your brakes too.
Finally, take your vehicle for a short drive. Pay attention to how it feels when you step on the brake pedal. If the pedal doesn't feel stuck, and you don't drift to the side when you brake, it means that you've gotten all the air out of your brake lines.
Brake Service & Repairs
To learn more about how to bleed brakes or have a technician take care of that for you, visit the service center at Maguire Honda of Ithaca. Our experienced service technicians can help drivers in Ithaca, Elmira, and Corning stop safely with regular maintenance and repairs.